Electric Switchable Privacy Smart Glass
Electric Switchable Privacy Smart Glass
Brand :WENSHENG
Product origin :CHINA(Mainland)
Delivery time :15days
Supply capacity :1000 SQM Per Day
Electric Switchable Privacy Smart glass is an intelligent high function glass, which has a special characteristic of changing between clear and opaque by voltage control.With such a function, Smart glass meets people's double requirements of light transmission and protecting privacy.
Electric Switchable Privacy Smart Glass
Glass Types: Float Glass, Patterned Glass
Colors: Clear, Extra Clear,etc
Sizes: Custom-made
Wensheng Electric Switchable Privacy Smart glass is laminated glass with smart PDLC fillm and EVA/PVB film in between two pieces float glass, it also have same function as smart PDLC film that when power on it is transparent, when power off it it opaque,and the transmittance of the smart glass can be controlled by electrical switching.
FEATURES:
1. Intelligent high function glass.
2. Special characteristic of changing between clear & opaque by voltage control.
3. Meet people's double requirments of light transmission & protecting privacy.
4. High privacy,Sould proof, Environmental protection.
5. Size are produced as per customer request,qualitified glass even one piece is acceptable.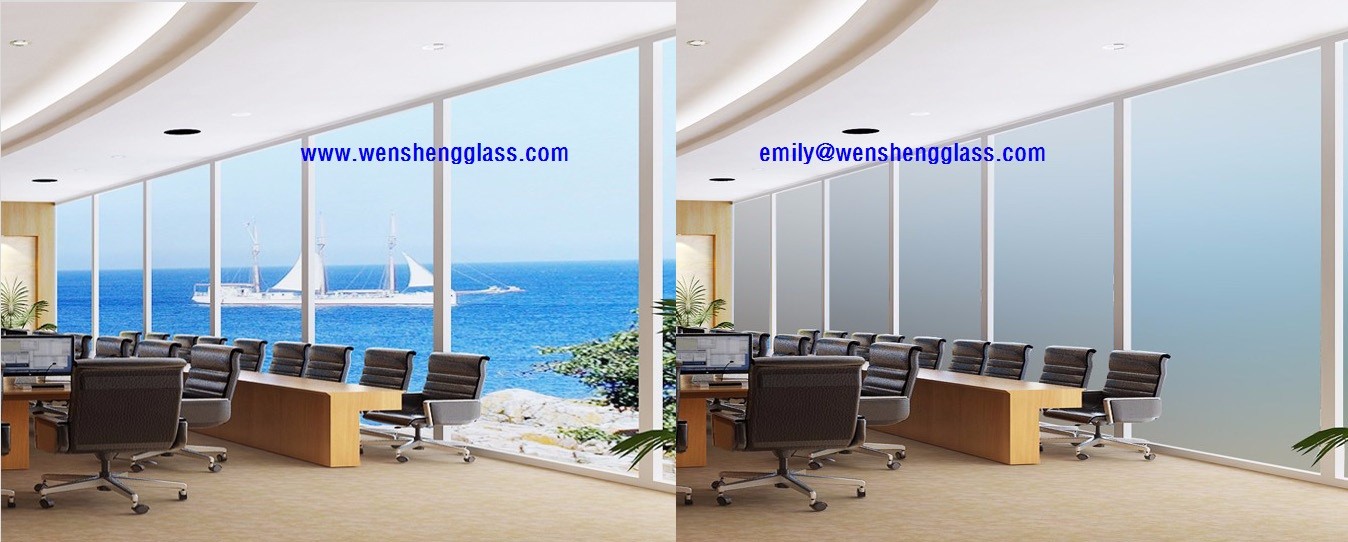 Please feel free to give your inquiry in the form below. We will reply you in 24 hours.